Maintain Dictionary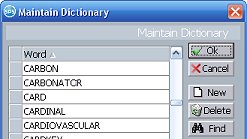 It is likely that at some time you will want to maintain your dictionary to remove or correct any misspelled words. Using the "Maintain Dictionary" option from the "Maintenance Menu" will bring up the screen shown above. (Quick Key Press CTRL + M) See Also - Spell Checking Your Tests
Click on the column headers to sort the list in descending alphabetical or numerical order, click the column header again to sort in ascending order.

Ok
Saves the changes that you have made and closes the Maintain Dictionary screen.

Cancel
Abandons any changes you have made and closes the Maintain Dictionary screen.

New
Click New and a new line will appear, you can now enter your a new word in the dictionary. You can also add words to the dictionary when you spell check a SimplyPats file and a word is not found. You will be prevented from leaving any blank entries.

Delete
Click on an entry to highlight it and press the DELETE button to delete it from the list. You can edit an entry by simply clicking on the text. You can delete a word if you mistakenly added an incorrect word whilst doing a spell check. Note you won't be prompted before the deletion happens.

Find
Click on find to find a particular word from the list. See Also Find In Grid
Technical Note!
The words for the dictionary are stored in a simple plain text file SimplyPats Dictionary.ini in the same folder as the program c:\Program Files\SimplyPats 6 You can edit this file with a word processor if you desire. Make sure you dont add quotes " to any words or you may find you have problems when editing the dictionary words again.
The dictionary is limited to 10,000 words and is supplied with about 3,500 words on installation.
There is no pront function on the Maintain Dictionary screen as we dont anticipate that you would want to print out your entire list of words, however, should you wish to do this, follow the instructions in the Technical Note above to load the Dictionary file into your word processing program from where you can print the entire list.
(This Topic Last updated 08/01/2007)