Download Data Error
If you get the following type of error message the following text explains what might cause it and what actions you should take.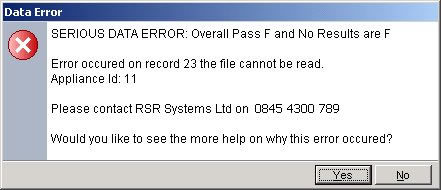 SimplyPats Double Checks Your Data After Download
After data is downloaded by SimplyPats, each test result is compared against the test code to decide if the test passed or failed. SimplyPats also downloads from the PAT Tester a status code which the PAT Tester stores to show if the PAT Tester thought the test was a a Pass or a Fail.
SimplyPats double checks your data to make sure that both the PAT Tester, and the comparison of the test result against the limit, set for the test BOTH agree. If for any reason there is a discrepancy then the message shown above is displayed.

What causes the error?
Data corrupted on download

The data may have been corrupted on download. Try downloading again. If it is the first time it has happened try downloading at a lower baud rate.

PAT Firmware Upgraded

If you have recently had the firmware (software) upgraded on your PAT - possibly during a repair or calibratiion service make sure you are running the latest version of SimplyPats.

Firmware has been changed by Manufacturer

When PAT tester manufacturers change the firmware (software) inside the PAT Tester they do not notify us of changes. We therefore need to change our software to take account of their changes. Over the last four years this has happened approcimately 5 times. As soon as we are aware of the change we attempt to create a fix within 48 hours.

Database within PAT Tester corrupted

On occasion the Software inside the PAT fails and the data becomes corrupted. This is infrequent as most PAT Testers are very reliable.

Error within SimplyPats code

An error not previously found within SimplyPats. As soon as we are aware of the error we attempt to create a fix within 48 hours.

What should you do?
Contact support for SimplyPats.
Tel 01326 378268
Email support@simplypats.co.uk
You will probably be asked to send the raw data download file to us. The support staff will guide you through this process. This raw data file will help us to understand what caused the problem on your PAT Tester.
(This Topic Last updated 05/07/2011)